More Than a Filling: Pie-maker/philanthropist Malea Guiriba doles out hope, peace and community assistance one slice at a time
Some tables inside the W.E. Harris Community Center in Hastings are piled with boxes of potatoes, bananas, tomatoes, peppers and onions. Others are filled with deli meat, pastries and canned goods — even tempeh, tofu, organic yogurt and brie. In all, the tables hold 4,000 pounds of food — a comparatively small load.
It's late May, and a few dozen people are waiting in line outside, some perched on walkers. They're fanning themselves with printouts advising them of the "New Food Pantry Guidelines" and swatting at gnats. Unlike most places in coastal Northeast Florida, Hastings doesn't come with the luxury of an ocean or river breeze. Actually, Hastings doesn't come with any luxuries. Established in 1890, Hastings is a speck of a town 18 miles southwest of St. Augustine. Railroad magnate and real estate tycoon Henry Flagler chose the spot when he needed a local source of fresh vegetables for guests at his lavish downtown hotel. He persuaded his cousin, Thomas Horace Hastings, to develop a modest farm, which evolved into a small agricultural community and eventually took the name of "the Potato Capital of Florida."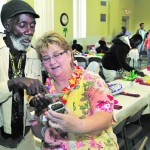 For a brief period, Hastings — with well-irrigated soil and a stop along the Florida East Coast Railway — flourished. But today, with a population around 600, and recent headlines mostly for migrant labor violations — Hastings offers little in the way of commerce or economic opportunity. Incorporated in 1909, Hastings has struggled in recent years to even maintain an elected Town Council, and there has been talk of dissolving or altering the town's borders. Like many rural communities, problems of poverty, drugs and violence have been compounded by the economic downturn. Because of its location in the southwestern portion of a county where wealth and power is concentrated along the coast, Hastings has few formal advocates. But it has produced a few remarkable community stewards. In years past, the voice of Hastings has been amplified by activist restaurateurs like Johnny Barnes, who for years owned a café at the center of town, and artist/educator Mike Mitchell, who brought the arts to community kids and revived the town's signature Potato Festival. But after both men left Hastings for personal and economic reasons, Malea Guiriba emerged as the community's champion, building her promise to Hastings on a graham cracker crust and a wave of meringue.
Guiriba — short in stature and sturdily built — established her pie business on Main Street at Pie in the Sky in August 2009. As the name suggests, her aim is nothing short of idealist — an amalgam of community activism, pacifism, generosity and creativity. "My goal is to have a community full of diverse people crossing racial and economic lines to help one another," she says, without a hint of hesitation. And the makeshift food bank held every Wednesday in the community center's gymnasium is "a microcosm of that process at work," says Guiriba. "I count this as a big success. Providing the means for a group of diverse people to come together for a common cause. Today the food panty … Tomorrow Hastings … Next THE WORLD."
And when that happens, she adds, someone might say "it all started with a little ol' lady making pies in a rural farm town."
A few weeks later, Guiriba is seated at a wooden picnic table at Crucial Coffee in downtown St. Augustine. An early morning rain has cleared, and a refreshing breeze is coming off the bay. Today, like most days, Guiriba is wearing a red T-shirt with a "Peace, Love, Pie" emblem on it. A gold chain dangles from her neck with a peace sign pendant and one that reads "#1 Grandma." Born June 23, 1957, Malea Fay Moore was adopted by Richard and Fay Moore and raised by the Trout River on the Northside. Her daddy, a union electrician with deep Jacksonville roots (his mother was a Canova, a prominent Northeast Florida family with entertainment roots), married her mama, a quiet, strong girl from Nashville. Unable to have biological children, the Moores adopted son Richard. A few years later, when they learned a local woman needed to give up her baby for adoption, they were eager to step in. Guiriba's grandmother objected. "She told her that it's wrong to have two children of the opposite sex who are not biologically related in the same household," Guiriba explains. At a time when children didn't defy their parents, Mrs. Moore went against her mother and adopted a baby girl she named Malea. "And thank God she did, because I had a great life," Guiriba says. "They were great parents." She fondly recalls a "regular old childhood" — swimming, fishing and boating on the Trout River. She admits she wasn't a very good student, taking the role of class clown and resident rebel instead.
In 1969, Duval County School System built Highlands Junior High (now Highlands Aviation and Military Science Academy) and began bussing in students from Ribault Middle School. "It was horrible," Guiriba remembers. "It was three really bad years of race riots and fighting. I was always trying to break up the fights." Her early exposure to African Americans was limited, but progressive. "My mama was more forward-thinking and taught me, 'This is a person. This isn't a black, white or purple thing.' " After high school, Guiriba earned her associate's degree from Florida Community College at Jacksonville (now Florida State College at Jacksonville) and went to the University of North Florida to study journalism. She was the arts and entertainment editor for The Spinnaker, and though she never graduated, she still writes, including a twice-monthly column for The St. Augustine Record about what's new in Hastings.
In 1976, at the age of 18, Guiriba married Dom Guiriba, a paymaster clerk in the Navy. They had two daughters — Noelle, now 32, who lives in Orange Park and is the mother of two, and Christina, 25, who just moved back to the area and works in marketing. Guiriba is a doting grandmother, spending multiple days each week with her seven and nine-year-old granddaughters. "I'm a big kid anyways," she says of driving them to and from summer camp, taking them out to eat and hosting sleepovers. "This way, I get to re-live my childhood through them." In her late 20s, Guiriba volunteered for John P. Hall Sr. Children's Charities and Jaycee Women's League. By the mid-1990's, she started volunteering for Quigley House Shelter, a domestic violence and sexual assault center serving the Clay County area. She was drawn to the groups not through any personal experience, she explains, but simply because she liked their mission. The Quigley House organization eventually hired Guiriba as an advocate and she worked her way up to shelter director.
"It cast a spell over me. It was just incomprehensible," Guiriba says of listening to the abuse stories of women who came to the shelter. "I remember feeling helpless and not knowing what to say."
Guiriba left Quigley House in 2000, when her parents died eight months apart. The couple had been married 50 years, but before she passed, Mrs. Moore asked her daughter if she was happy in her marriage. Guiriba admitted she no longer wanted to be married, so her mom gave her the money to file divorce papers. The Guiribas amicably split that same year. With her future uncertain, Guiriba moved to St. Johns County to build a house on a piece of property she owned in Switzerland. In 2004, she joined the Betty Griffin House, an emergency shelter for women and children who are victims of domestic violence and sexual abuse, as a late-shift advocate.
A year later, the Florida Coalition Against Domestic Violence gave the Betty Griffin House a grant to open a rural shelter and Guiriba's boss asked if she would want to go to Hastings to head it up. "I was like, 'Where's Hastings?' " she laughs. When Guiriba arrived in Hastings in 2005, her biggest obstacle wasn't finding a property to rent for the shelter or choosing the right furniture for the new space. It was gaining the trust of the community. "I'm sure they looked at me like just another agency coming into town and making all of these promises." Guiriba named the organization the ROSA (Rural Outreach Services Advocacy) Project and, armed with little more than a staple gun and a stack of flyers, started posting information at the library and in women's bathrooms around town. "Hastings doesn't have a radio station, it doesn't have a newspaper or a Chamber of Commerce. This was the only way I could get the word out about the services." In May 2009, after four years, the FCADV pulled the project's grant, due to lack of funding. "I remember being in the car and crying and thinking about how I had built this [organization] up, and here we are — just one more agency up and leaving," Guiriba says. "It was going to be just one more town that was forgotten."
After pleading with the Betty Griffin House — and even offering to take a pay cut in order to continue her work in Hastings — Guiriba took it upon herself to stay. She no longer wanted organizations or federal dollars to dictate whom she could help and for how long. She wanted to create her own self-sufficient organization, one that could help those in need without depending on fickle funding. On June 5, 2009, Guiriba took a break from cleaning out her desk to have lunch at what was then Johnny's Kitchen on Main Street in Hastings. And while she was there, she got inspired.
"I thought to myself, 'The one thing Johnny [Barnes] doesn't have is dessert. Maybe I could make pies and sell them to fund my work in Hastings.' "
Guiriba, who had never made a pie in her life, recognized the idea was more than a little idealistic. But that became part of the magic. When she told her good friend and fellow community steward, artist Mike Mitchell, about her idea, he came up with the name Pie in the Sky. She has "pie in the sky ideas about helping people," he explains. A few months later, Guiriba took over the storefront next to Johnny's Kitchen and with the help of Steve and Sue Marrazzo, owners of Simple Gestures gift shop and art gallery in St. Augustine, hosted her first major fundraiser. Titled "Pilau, Pies and Pews," it featured homemade pilau (a Minorcan specialty pronounced locally as PER-low), plenty of pies and church pews painted by local artists. They raised $2,000 — the seed money needed to get Pie in the Sky off the ground. In 2010, Guiriba got another helping hand. Bill Lazar of the St. Johns Housing Partnership brought her aboard as the group's rural advocate for the housing partnership and helped bring services to the folks in Hastings.
Over the years, Guiriba's enterprise has evolved from selling pies like Chocolate Chunk Pecan and Blueberry Cream pies at the Hastings storefront and St. Augustine events to running the town's food bank. Earlier this month, in fact, she closed the doors to Pie in the Sky's storefront. Although she will continue to sell pies at special events, she says it just didn't make financial sense to keep the doors open anymore.
"Pie in the Sky is everything that I ever could have imagined and more," she says. "To do what we've done — and it's not just me, it's the people around me — has been amazing."
It's around 3 p.m. and the people who have been waiting patiently outside start to trickle into the gymnasium at the W.E. Harris Community Center. Guiriba has established a lottery system to indicate a place in line and upon entrance, each person must check in with an ID to verify name and number. "There is an anxiety that the food will run out," she explains. "It's never happened, but people still get fearful." Young moms, the disabled, the elderly, veterans and migrant farm workers are just some of the personalities who come to the food bank each week. "This community represents a microcosm of all of society," Guiriba says. Each person is allowed to choose one or two items from each area. The pineapples go fast, as do cans of tuna. Other items like tempeh, tofu and fancy European cheeses don't move as quickly.
Any leftovers are donated to a local pig farmer who in turn donates a pig at the end of the season to be slaughtered and divvied up for food.
Joan DeWitt has lived in Hastings for 40 years and volunteered at the food bank for one. She is one of Guiriba's biggest fans. "She's outstanding," DeWitt says. "I can't describe her. I just get chills when I think about it. She helps everybody and it's amazing what she does. She's just a loving person."
Ellen Walden, a Pie in the Sky board member who lives in Elkton and works as a human services specialist at St. Johns County Social Services, says Guiriba's been a force for organizing charitable efforts in town. "For six months, before Second Harvest got on board, we were moving food in Malea's truck and setting up in front of the library. We looked like the Beverly Hillbillies." Walden, who's known Guiriba for six years, believes she's getting the support she does from the community because of her desire to help. "That passion is what has led to people trusting her," Walden adds.
Sitting at the picnic table by the bayfront, Guiriba acknowledges that there's a long row to hoe in Hastings, a place that requires hard work, not wizardry, to heal. But she also believes there's room for a little idealism — and the deep, satisfying sweetness of a well-made pie.
"I know peace won't come to this community because I'm here for one day or one month," she says. "This is a long-term commitment."
Visit Malea's website at hastingspieinthesky.com
Kara Pound
themail@folioweekly.com