DOWNTOWN NEIGHBORS 07.25.12
Congratulations to Tammy  and Andrew Harrow of Riberia Street for having their beautifully landscaped front yard recognized by the St Augustine Beautification Committee.  The Harrows moved to their downtown home in the spring of 2011 and went to work on their own beautification projects right away. Tammy is a professional photographer specializing in creative portraits and commercial work, which can be seen at lunabluphotography.com. 
Congratulations to Pat Croce, visionary and owner of the Pirate and Treasure Museum on Castillo Drive.  Pat will be taking over the Colonial Spanish Quarter after his proposal was selected out of the three that were submitted.  His energy and enthusiasm are contagious so we will be waiting with great anticipation for the reopening which is tentatively scheduled for early October.
Downtown resident and artist, Rosamond Parrish, is hard at work on her latest project on the subject of Lincolnville.  Using a variety of mediums, she has been capturing her impressions of this historic neighborhood, including its people, its landscapes, its artifacts and the diversity of its architecture.   She hopes this book, "Lincolnville, A Sketchbook Journal," will inspire others towards preservation.   Look for Carrie Johnson's beautiful handwriting – she's doing the cover and chapter titles.  The debut is scheduled for the First Friday Art in October at the St Augustine Art Association.
Downtowners who frequent the Collage Restaurant on Hypolita Street will be pleased to hear that partners Mike Hyatt and Cindy Stangby have teamed up with Vaughn Cochran (remember his great gallery Black Fly Outfitters & Art which used to be on Aviles St!), Doug and Charlene Bunnell to open Blackfly the Restaurant at 108 Anastasia  Boulevard.  Just a hop, skip and a jump over the Bridge of Lions and you're there.  Vaughn's artwork is everywhere and it lights up the room with its vivid color and energy.  Art, food, drink and retail -one stop shopping.
The Helping Heroes at Home Foundation is hosting an elegant evening at the Serenata Beach Club to benefit two local literacy programs – the Sertoma Book Program and Kids Bridge Learning Links.  Sertoma provides free books to children from birth to age 5 and they send one per month to encourage and stimulate a love for reading.  Kids Bridge Learning Links provides tutoring at the Willich Kids Bridge located at 238 San Marco Avenue.  The event, A Night in Old Havana, is looking for sponsors and attendees so please visit helpingheroesfoundation.com for more information.
A big thank you goes out to each and every one of you who helped with the fundraising effort on behalf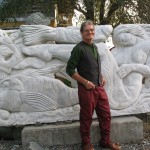 of the late Thomas Glover White. It's never easy to raise money and these days it's even more difficult, which makes the event held at the Mardi Gras all the more meaningful.  Artists, musicians, local restaurants and a host of volunteers gave time, money, art, music and food and a good time was had by all. 
Our thanks for food go to:  La Pentola, Manatee Café, Present Moment Café, Scarlett O'Hara's, Rhett's, Bistro de Leon, Ned's Southside Kitchen, Cap's on the Water, Casa Monica, Sara's Crepe's Café, Le Pavillion, LuLi's Cupcakes, Claude's Chocolates, the original Café Eleven, the Floridian, Florida Cracker Café, Tasting Room to Go, Debbie Green and Sharon Poole.  Artists:  Aimee Wiles Banion, Toni DeWitt and Bob Heim, Carolyn Kelso, Zita Nearvez, Eleanor Hughes, Ken Barrett, Gene Roberds, Sherryand the Psychodelics, Lu Rubino, Kathryn Arango, Marianne Lerbs, Joe Calabrio,Wendy Tatter, Wendy Mandel McDaniel, Deane Kellogg, Jan Miller and Jim Stafford.  Musicians:  Bob Patterson, Pat Murphy, Chip Herrington, Lonesome Bert & the Skinny Lizards (Chris Clark, Steve Mitherz and Mark Saunders), Brad Cooper, Mike Hart, Tom Santoni, Janine Newfield and Katherine Archer.  Volunteers:  Sharon Poole, Ginny Bullard, Deane Kellogg, Dan Pillen, Debbie Green, Rachel Green, Michael Dowell, Vanessa Lunsford, Gary Fox, TJ Ward, Betsy Potterfield, Lisa Macks, Colleen Murphy, Kevin Lang, Marianne Lerbs.
And to Pat Paolini, Melissa and Travis from the Mardi Gras – thank you for your ever present generosity and good humor.
Summer in the city – it's here, it's hot and that's that!  Cool your heels on Thursday nights at the Plaza where wonderful music is offered for free through the season.  The Company is playing on the 26th followed by the Falling Bones on August 2nd.
See you on the street!