DOWNTOWN NEIGHBORS 3.27.2013
Congratulations to The Floridian restaurant for being the centerfold feature in the Executive Edge magazine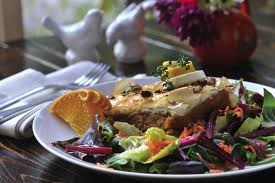 inside the March Jacksonville Business Journal. Titled "Far from the Usual Tourist Fare," the Executive Eats article interviewed owners Genie and Jeff McNally about their innovative Southern fare which caters to omnivores, herbivores and locavores. If you're a fan, stop by and congratulate them, if you've never been, here's your chance to check out this farm-to-table eatery at 39 Cordova Street.
On the subject of food, don't miss the new breakfast and lunch spot at the Yard Bird Café located at 117 King Street (immediately west of the old Hamblen Hardware and one door down from the recently opened and extremely cool toy store called Olde Towne Toys). Open from 7am to 3pm, you'll find lots of familiar faces there, not the least of which are the owners, Terri Gamble and Jeff Sapp. Jeff started the original Local Heroes on Spanish Street and then went on to create the Back 40 Urban Café. This new venture features him in the kitchen where he is turning out some very creative and delicious things to eat. For a menu visit their Facebook page or call 217.3777.
This past Monday the Flagler Model Land Company Neighborhood Association held their first meeting of 2013 at the Markland House. Neighbors turned out to catch up on city happenings and to welcome the new neighbors and some long-time residents who turned out for the first time. Kate Coast of Sevilla Street and Cathy Doherty of Carrera Street were the two newest residents in the neighborhood and Oscar Leathers and Angela Brown of Lemon Street attended their first meeting and provided some of the refreshments – thank you!
The evening's speaker was Jane West. West is an attorney specializing in real estate, land use and environmental law as well as commercial litigation. Her presentation, "A Community's Guide to Florida Local Planning Processes and Pitfalls," gave the attendees a crash course and overview of how the development and planning processes work in local governments as well as a better understanding of the Bert Harris Act.
The next meeting will be held in May and the speaker will be historian David Nolan. His topic, "A 450th Worth Celebrating" promises to deliver an interesting perspective from a man who has dedicated much time and great passion to the study of St Augustine and its many chapters. Nolan always draws a crowd so be sure to get there early and grab a seat. Stay tuned for the exact date in May.
Save the dates –
First Friday Art Walk is just around the corner and Joy D'Elia wants you to know about "Abiding,"

which is a collection of artwork and artifacts inspired by Buddha and shown at Amiro Art & Found during the April 5 reception. Featuring Buddha inspired artwork by Ginny Bullard, Estella Fransbergen, Deane Kellogg, Jan Tomlinson Master, Wendy Mandel McDaniel and Marcia Myrick Siany. Nancy Hamlin-Vogler will exhibit silk screened prints and there will be carved coral Buddha heads from China, prayer malas and carved wooden Buddhas from Thailand. Amiro is located at 9C Aviles Street. Visit www.amiroartandfound.com.
Downtown resident Mary Lou Gibson will be one of the featured First Friday artists at Plum Gallery in addition to Claire Jane McKendrick, Thomas Brock and Tony Gill as well as the resident artists. Gill uses a spin on an ancient technique known as vere eglomise which translates into "gilded glass." Using acrylic plate allows his work to withstand the effects of our salt air and marine art is his primary focus. Gibson's abstracts are meditative presentations of spontaneity and fluidity. Brock's passion is natural landscape and Kendrick works in still life, figure paintings and landscapes. Plum is at 9 Aviles Street. Don't forget about the free artists' lecture being held this Saturday evening from 6-8 with Sara Pedigo, Liz Robbins, Barbara Cornett, Theresa Segal and Deedra Ludwig presenting an instruction evening. Refreshments will be served.  Visit www.plumartgallery.com/
Our friends at Ancient City Mosaic are calling for artists of all ages to submit their impression of St Augustine in this community-based art project. The exhibit will first be hung throughout St Johns County at all six public libraries and the St Augustine Art Association. The exhibit will then be brought together to be showcased as a grand 450-piece mosaic. Final submission deadline is April 15 and you can learn more at ancientcitymosaic.com or by calling 825.1053. Children can participate for free and are eligible to receive a free 8"x 10" canvas which can be picked up at various locations. This project is supported by the St Augustine 450th Commemoration and the St Augustine Sertoma Club and all proceeds will benefit the St Johns County Education Foundation. Visit artsalivestjohns.com
Please keep me posted on downtown news and events you would like to see in this column and I will be happy to oblige.
If it's spring (and it is, this weekend's hail storm notwithstanding), it must be time for the annual Pie in the Sky fundraiser at Simple Gestures. Mark your calendar for April 13 and get yourself ready for a great time. This year's theme is "In Other Words," and participating artists will create words of hope and inspiration in various mediums. The works will then be auctioned or sold and all proceeds from the day will go to fund the amazing works that Pie in the Sky does every day to assist people who are hungry and in need of support, including the mobile food pantry. Malea will be making pies and Lonesome Bert & the Skinny Lizards will be making music and you can register your two-person team to play Pie Hole and a chance to win the coveted one-of-a-kind pie trophy made by Uncle Stevo.