DOWNTOWN NEIGHBORS 06.11.2013
Congratulations:
It was a full house at the COA River House on May 30th when friends, fans and coworkers gathered together to honor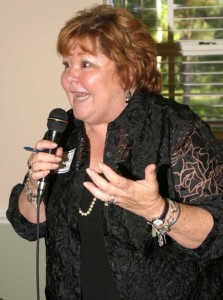 Cathy Brown as she handed over the reins to the new COA Director, Becky Yanni.  Laughter and good cheer were the order of the day as Joe Boles listed the many accomplishments, programs and achievements made under Cathy's leadership and it was a long list to be sure.  When given the floor, Cathy stole the show with her remarks and left everyone in the room inspired to reach further and strive to do more for those who need a helping hand.
Happy 20th Anniversary to The Dance Company which celebrated this momentous event by hosting a reception at the future home of The Children's Museum of St Johns where Carole Dickens, founder of The Dance Company, was the honoree.  After the reception everyone trooped over to the Lewis Auditorium at Flagler College to see the performance ensemble and senior dancers in the Jubilee Concert.  Hats off to all who keep the music playing and the children dancing!
This month marks the 14th anniversary for the Metalartz Gallery located at 58 Hypolita Street.  Originally founded by artists, it has evolved into an eclectic collection of more than 60 local and national artists with a representation of mediums including steel, copper, blown glass, ceramic and wood in addition to original paintings and photography.  In celebration of its 14th year the gallery will be featuring Patricia Pollock during the month of June and this weekend there will be special pricing, giveaways and discounts for local residents.  There will also be a lemonade stand in support of Alex's Lemonade Stand, a non-profit charity that funds research for a cure for childhood cancer.  Stop by and congratulate Linda LaCerva and Victoria Brooks.
June 2nd marked the 60th birthday of Nellie – everyone's favorite dolphin at Marineland and this big birthday coincided with the 75th anniversary of Marineland.  A host of events during the month of June are certain to entertain and educate so be sure to visit marineland.net to see what's going on over there.
Bravo to Chef Jean-Stephane Poinard at the Bistro de Leon.  Celebrating his 5th anniversary at his downtown restaurant, Poinard is a 5th generation chef and you can revel in his culinary magic at the Bistro at 12 Cathedral Place.  To celebrate during the month of June, the Chef is extending his popular happy hour until 8pm each night and there is a complimentary Kir cocktail for his guests.
Happy 90th birthday to Barbara Vickers!  Ms Vickers was recently celebrated at the River House where her long standing work as local civil rights leader and outstanding citizen was honored by her guests.  Many happy returns!
Heartfelt condolences to the White family who gathered at Trinity Episcopal Church to celebrate the life of Dorothy Langford White who passed away on May 26.  What an interesting life she had as the manager of Potter's Wax Museum and the old Plaza Hotel at 1 King Street, not to mention her lifelong passion for her family and for renovating and decorating historic properties.  Family and friends gathered to honor her and she will be missed by many.
A big thank you goes out to the Jacksonville Jaguars Foundation which generously underwrote the admission fees at the Willie Galimore Community Center swimming pool for the entire 2013 summer.  Grab your swim suits and get over to the pool – no excuses!
There are two great places to check out on San Marco Avenue so be sure to put them on your to-do list right away.
Our old friends Walter and Karen Coker are back with their shop Coastal Traders.  Featuring cool and unique furniture and décor from Indonesia and Southeast Asia, it's a great place to outfit your house and patio.  Located at 56 San Marco Avenue, take a minute to stop by and tell them you're glad they're back on the Avenue.  Hours are 10am to 6pm every day.
In the same location, Jennifer Myers has opened Juniper Market.  Serving fresh and healthy sandwiches, salads, home-made bread, cookies and other scrumptious stuff for carnivores and vegetarians.  I'm told the iced coffees are excellent and the weather is certainly right for ice!  Jen is open Monday, Wednesday, Thursday, Friday and Saturday from 8:30am to 6:30pm and on Sunday from 10am to 5pm.
This Saturday, June 15th, the St Augustine Ballet Company presents A Midsummer Night's Dream directed by Luis Abella.  Featuring fresh choreography and the wonderful score by Felix Mendelssohn, there will be dancers of all ages alongside the guest artist, Adrianna de Svastich, of Ballet Fleming in Philadelphia.  Returning to dance with SAB is Yosbel Delgado-Hernandez, who has performed with the company in the Nutcracker performances.  Delgado-Hernandez dances with Ballet Fleming and has taught at the Rock School of Dance in Philadelphia.
There are two performances at 2pm and 7:30 at the Lewis Auditorium at Flagler College located at 14 Granada Street.  For info check out saintaugustineballet.com.