DOWNTOWN NEIGHBORS 01.22.2013
Save the dates:
Henry Wadsworth Longfellow said, "Music is the universal language of mankind," and I think most people would agree.  At the February First Friday Art Walk you can find out for yourself at the very special exhibit "Music from the HeART," featuring Dick (aka Frog) Bozung.  A local artist and musical instrument designer, Bozung's unique and colorful musical folk art is inspired as he is by the harmony of the natural world and his work has been shown and played throughout the Southeast at numerous festivals and galleries.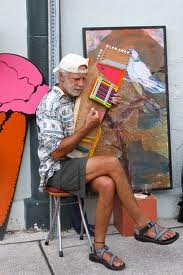 Originally from California, this former engineer on the Apollo Program and maverick City Councilman in Ventura, he was living in Charleston SC in the 80s when he created his unique style of musical instruments.  Hurricane Hugo came visiting in 1989 and a 16-foot storm surge washed over him and took most everything with it out to sea.  Moving out and onward, he spent a period of time creating a tool and method to simplify playing guitar and other fretted instruments, wrote a children's book about living in harmony with the earth, developing a cooperative sports model, worked as a music therapist and dabbled at instrument design when time and space were available.
Since coming to St Augustine a few years ago, he has been busy refining earlier instruments and making new ones ever since.  The result is the new exhibit aptly titled and the instruments are beautifully crafted to resemble birds, flowers and other natural objects and they are simple to play.  Bozung coined the word "ear-idescence" and you'll understand immediately when you hear him play.  For a preview visit SevenArrowsMusic.net.  The reception will be held from 5 to 9pm at Amiro Art and Found at 9C Aviles Street – this will be a most memorable and fun event.  Visit amiroartandfound.com
John Miller, advisor to Menendez High School Model United Nations is excited about the Adult Spelling Bee being held Saturday, February 2 at the Allegro, 1101 Plantation Drive South off SR 312.  He invites one and all to join the fun and competition for this first annual Great Adult Spelling Bee.  Clubs, companies, organization, groups or individuals can enter or sponsor a team.  Funds raised will be used to support the project of combating child trafficking and will include a workshop for high school students to address this serious and real issue.  Entry fees for a team of three $100, $70 for two and $40 for one and you will enjoy light hors d'oeuvres and receive two tickets for beer or wine.  I love to spell and plan to be there, but in the meantime I'm honing my spelling skills.  Excellent cause, a chance to stretch your brain and make new friends – see you there.  For more info call John at 501.2847 or email him at hsmun@comcast.net.
Joan Didion's "The Year of Magical Thinking" is an extraordinarily moving and personal account of Didion's experiences after the sudden loss of her husband, John Dunne.  Jean Rahner's Classic Theatre brings this work to life with Anne Kraft on stage.  A limited engagement, the show will be performed at 7:30 on February 7, 8 and 9 and again at 2 on February 10 at the Pioneer Theatre at Fort Menendez, 259 San Marco Avenue.  For reservations call 824.8874 or email aclassictheatre@hotmail.com.
It's time to get your tickets for the upcoming Picasso show slated to open at the newly renovated Visitor Information Center at 10 West Castillo Drive on February 1.  On exhibit until May 11, this is the first of what we hope will be many cultural displays for locals and visitors to enjoy.  Call 825.1053 or email jzuberer@citystaug.com for more info.
Looking for some great music you can walk to –  Joe Segal invites you to hear The House Cats every Saturday at Stogies from 9:30 – 1am.  On January 25, Feb 8 and 22, you can hear them at the Casa Monica from 8 – 12 and on February 1 and March 22 don't miss them at the Tasting Room.  With so many options, you can catch them more than once.
On the move:
Dena and Worley Faver depart their gallery at 11A Aviles Street on February 1 and it will become the Georgia Nick Gallery in time for this upcoming First Friday.  The Favers are excited about this new chapter which will feature Worley's pottery exclusively at Brilliance In Color Fine Art Galley on King Street.  Wish them well and many thanks for all the years of wonderful work on Aviles Street. 
Joining Georgia Gayle Nick at this new gallery will be Wendy Tatter who has just relocated her work from her uptown San Marco gallery and the newest exciting addition is Debi James, whose tile and mosaics works are known and loved by many.  Make a point of stopping by to welcome them to their new location.
Finally, a number of downtown residents, business people and institutions were prominently featured in last week's Folio Weekly.  Philip McDaniel and his St Augustine Distillery, Rob DePiazza, owner of Screen Arts and space: eight gallery, John Charles Lamendola,  chef at Meehan's Irish Pub, Julie Dickover, curator of the Crisp-Ellert Art Museum on the campus of Flagler College and Flagler College itself for its outstanding 125th anniversary celebration of the Hotel Ponce de Leon. 
Bravo to one and all for their dedication to their particular endeavor.
Stay warm!  Or cool, since the weather seems to change every hour.